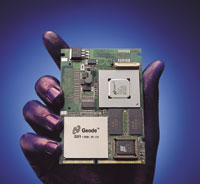 Advantech's new SOM-2353 is a super versatile Geode™ GX1-300 MHz System On Module for applications where power consumption, development cost and performance are all important. With an onboard, fanless GX1-300 processor, 64 MB onboard SDRAM, APM, superb expansion capability, and small 2.5" size, the SOM-2353 is an ideal solution for high-end commercial and industrial applications where stability and reliability are essential. Used with the SOM-DB2300 development board or combined with a custom solution board, the SOM-2353 gives a well-rounded platform for developers to speed up their hardware and software integration process, expediting product development and critical time-to-market.
A Strong Platform to Build On
The low power consumption and fanless operation of the SOM-2353, allow this module to control a variety of applications such as POS devices, kiosks, HMI devices, traffic control devices, set top boxes, thin client devices, industrial controllers, navigational instruments (GPS) and building automation. Advantech also offers a Windows CE 3.0 Development Kit that combines a preloaded Windows® CE 3.0 OS in Flash memory along with the SOM-2353 CPU module and development board.
One of Many SOM 144 Solutions
The SOM 144 products have compressed many features usually found on larger control boards into a 2.5" size (68 mm x 100 mm). These plug-in CPU modules are designed to help customers bring their CPU-based embedded products to market fast. Advantech offers our 30 Days Design To Order Service (DTOS™) that guarantees 3 product samples within 30 days of project acceptance. This is a way Advantech is giving our customers a cost-effective and extremely fast way to meet their product and business needs.
Summary of Features and Specifications of the SOM-2353
| | |
| --- | --- |
| | CPU: Geode™ GX1-300 CPU with 16 MB SDRAM on board |
| | Chipset: NS5530A |
| | RAM memory: 64 MB SDRAM on board |
| | VGA: Supports VGA and VESA, up to 1280 x 1024 @ 8 bpp and 1024 x 768 @ 16 bpp resolution, up to 4 MB shared memory |
| | BIOS: AWARD 256 KB Flash Bios |
| | |
| --- | --- |
| | PCI/IDE/Serial Port/USB/AC97/KB/Mouse (SOM 144/PCI V1.4 at SODIMM socket) |
| | I/O expansion: 3 master PCI bus |
| | Enhanced IDE HDD interface: Up to 2 IDE HDD |
| | Serial ports: Two serial ports (TTL) |
| | Keyboard & PS/2 mouse: Supports standard PC/AT KB/mouse |
| | |
| --- | --- |
| | Two independent USB interfaces (open HCI) compliant |
| | AC97 Codec interface: Specification revision 1.3, 2.0 and 2.1 compliant |
| | VGA/irDA/FDD/Printer/ATX Power/GPIOx4 (SOM 144/PCI V1.3 80 pins 0.5 mm board to board ) |
| | 2D graphics Accelerator, supports VGA and VESA |
| | Display memory: 1.5 ~ 4 MB shared |
| | |
| --- | --- |
| | irDA |
| | FDD/parallel port SPP, ECP and EPP support |
| | Power connector : 2 pins |
| | Operating Temp : 0 to 60° C (32 ~ 140° F) |
Ordering Information
These products are available now. To place an order use the following part number information:
SOM-2353-6400-GX1 SOM 144/PCI Module
SOM-2353A-6400-GX1 SOM 144/PCI Module w/LAN/SSD Socket
SOM-DB2300-Development board for SOM 144/PCI
SOM-DK2353-C01-Windows CE 3.0 Development Kits for SOM-2353(A)
Contact Information
For more information about our products, please contact your nearest Advantech representative or look at our website at http://www.advantech.com.tw/SOM or send us an e-mail to som@advantech.com.tw