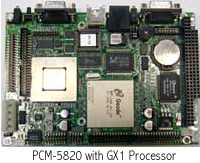 Advantech has upgraded the PCM-5820's PC board to accommodate National Semiconductor's new Geode™ GX1 processor. The GX1 processor brings 0.18 micron technology to the Advantech embedded PC line and allows users to enjoy the added speed and efficiency 0.18 micron technology has to offer. These benefits become apparent by the fact the GX1 processor enables 300 MHz capability but uses less power than the GXm or GXLV processors running at slower speeds.
Low Power Consumption, Increased Clock Speed, x86 Technology
The GX1 processor provides the lowest power consumption for any x86 processor at this performance level. The x86 technology also supports most popular web plug-ins and leverages existing software and hardware investments. The enhanced thermal characteristics allow for creative applications and configurations that take advantage of this processor's fanless capabilities You can go to their web site at http://www.national.com/appinfo/solutions to learn more about this exciting processor series.
New PCM-5820 Rev B1 Summary
The table below gives a better understanding of the transition from the Rev A1 to Rev B1 part numbers for the PCM-5820. One note worth mentioning is that even though the PCM-5820-E0B1 and PCM-5820-D0B1 have the new updated board, they still support the GXm and GXLV processors.
| | | |
| --- | --- | --- |
| Part # | Features | Product Status |
| PCM-5820-E0A1 | GXm-233 2.9 V | will be replaced by Rev.B1 |
| PCM-5820-E0B1* | GXm-233 2.9 V | Available August 2000 |
| PCM-5820-D0A1 | GXLV-200 2.2V | will be replaced by Rev.B1 |
| PCM-5820-D0B1* | GXLV-200 2.2V | Available August 2000 |
| PCM-5820-G0B1* | GX1-300 2.0 V* | Available August 2000 |
Find Out More Today
Advantech is standing by to answer any questions you might have concerning the new GX1-300 processor. With the GX1's performance increase, low power operation and other attractive embedded application features, Advantech is sure the PCM-5820-G0B1 can help fill our customers' needs. Contact Advantech anytime through our web site at http://www.advantech.com/epc to find out more about what Advantech can offer. You may also contact your local Advantech representative for more information on how we can help provide a solution for you.