With the increased use of Pentium -level processors in PC/104-based embedded PCs, standard ISA bus throughput typical of PC/104 limits the full use of this higher processor power, however PC/104-Plus is answering these needs. PC/104-Plus allows system integrators to take advantage of these processor speeds by providing a PCI expansion slot on a PC/104 form factor.
Design Requirements Accomplished
The design requirements for PC/104-Plus contained all the present criteria currently found on the standard PC/104 form factor, plus the additional requirements. Also, most importantly, PC/104-Plus had to be fully backward compatible with all existing PC/104 products. In essence, PC/104-Plus had to retain all the characteristics of PC/104 that has made it an industry standard, plus, be able to utilize the latest processor speeds and technology. The common PC/104 characteristics are summarized below, with the new PC/104-Plus requiremnts added in red.
Compact in size (3.6 by 3.8 inches, standard PC/104 size)
Self-stacking
Pin-and-socket bus connector for harsh environments
Four corner mounting for vibration resistance
low power
low heat generation
PC compatible to leverage existing software and reduce development time
High-speed processor capability (PC/104-Plus)
Backward compatible with all PC/104 products
The last items on this list were smartly achieved by integrating a new 32-bit, 33 MHz PCI expansion slot onto a current PC/104 form factor. This effectively makes the same kind of breakthrough that PC/104 earlier achieved (a repackaged version of ISA that answered the unique needs of industrial and embedded applications). But now, PC/104-Plus is a repackaged version of PCI that effectively answers the needs of the embedded market of today and tomorrow. PC/104-Plus upgrades the throughput capability of PC/104 from 5 MBytes/sec to an impressive 132 MBytes/sec rate.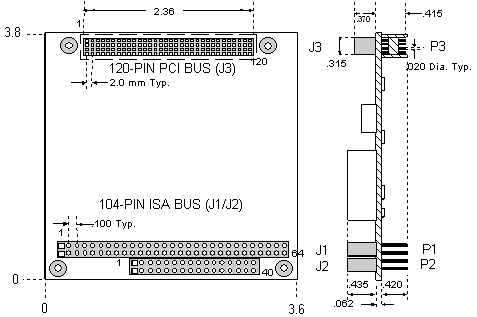 Opening New Doors
Look for the July 15th issue of ECG World Bulletin and see how Advantech has incorporated PC/104-Plus into our new PCM-9550 SBC that is soon to be introduced. Many feel PC/104-Plus is one of many smart solutions that will help continue to drive the embedded SBC market forward.