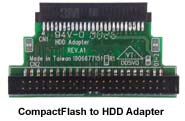 A smart new adapter instantly gives any Advantech SBC with a CompactFlash™ socket the ability to add an additional 2 IDE devices. Most single board computers offer only 1 IDE channel which can support 2 IDE devices. This adapter now gives an additional IDE channel for a total of up to 4 IDE device support. Since systems normally support a CD-ROM or fax/modem IDE device on chassis, this device is a convenient way to add additional IDE support.
A Simple Way to Increase Capability
With this adapter, more options become available to the user. Customers can keep their original HDD but upgrade capacity through addtional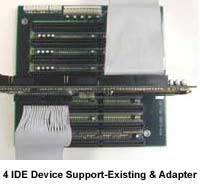 devices. Also, in many embedded solutions, operating systems can stay on one HDD while applications or important data can be easily exchanged from the other HDD device. The latter is becoming increasingly more common as products are being designed with portability and data exchange capability in mind.
Industrial strength ruggedness, resistance to vibration and solid pin connections make this adapter a strong IDE platform users can depend on. The following Advantech SBCs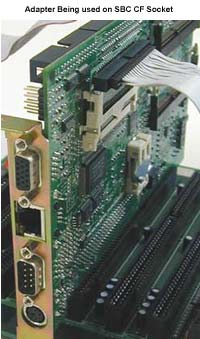 with CompactFlash™ sockets are perfect for utilizing this adapter.
PCA-6751
PCI-6771
PCA-6770
PCA-6752
PCA-6753
PCN-6351
PCM-9570
PCM-5820
Availability
This CompactFlash™ socket to HDD adapter will be available soon from Advantech. To order, use the following part number for reference: CF-HDD-ADP. Contact Advantech anytime at http://www.advantech.com/epc to find out more about these kind of solutions or any other embedded products we offer. You may also contact your local Advantech representative for more information.